Personal Drones are on the rise, as many people are investing their money into owning one. But what makes them so appealing to the general public? Maybe it's the convenience of having your very own drone at home, ready to use or capturing those magical moments on holiday with loved ones. We will delve deeper into personal drones, looking at their features and main selling points.
Personal Drones to match your creative filming needs
Hexo+
This is a drone designed to specifically follow you and film in extreme locations. It is capable of reaching speeds of up to 44 mph while maintaining footage of high quality. To get started, the user must utilise an included app to indicate the perspective from where they want to be filmed. Once this is done, the drone automatically takes off and follows the path from which the user has set. With it's GPS coordinates on the users phone, there is no worry about the drone losing it's direction. It can be controlled manually by phone or remote, if the user wishes to. It's battery life runs for 15 minutes and can film from a distance of 50 meters from the user. With the price ranging from £900-£1000, this may be off putting for some people, especially with the drone coming without a GoPro. However it still proves to be a useful and fun drone to have to take with you on your many adventures.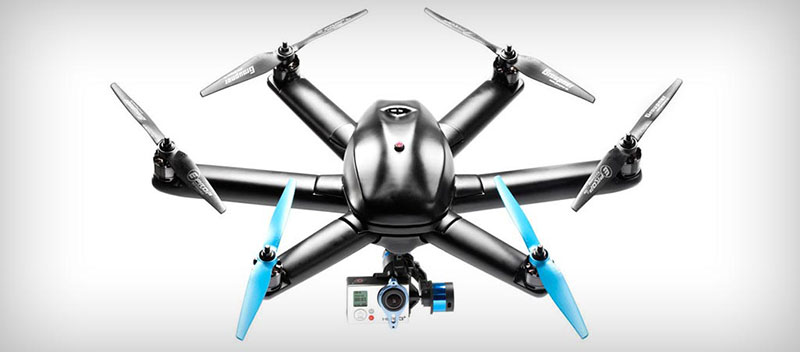 Lily Personal Drone
A one of a kind drone that requires no remote control or phone. All you need is to turn it on, throw it in the air and your good to go. It's four rotors automatically open up to steady it in mid-air, rising to around twenty feet to await instructions from the user. A small circular tracker is kept on the individual and follows a set of commands. It maintains focus on you and shoots similarly to a GoPro Hero 3, in 1080p video or 720p up to 120 frames per second as well as 12 megapixel stills. An amazing feature is it's ability to shoot in slo motion when a user is about to jump up or jump down a large height. This will no doubt appeal to keen skiers and snowboarders. It can fly up to 25 miles per hour, has a range of 100 feet, has a battery life of 20 minutes and is also waterproof. What makes it so appealing is the fact that you don't need to be an expert to get it to work. The price ranges from £300-£1000, again making it pricy, yet the amount of features it has as well as it being easy to use will no doubt appeal to most filmmakers and creatives.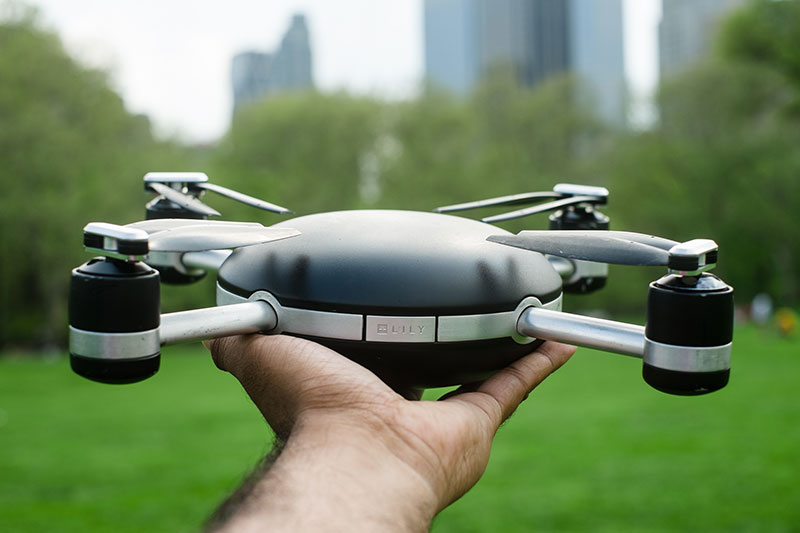 Solo Smart Drone 3DR
The first of it's kind to control both the copter and the camera. You can tailor any kind of shot you like in real time to work for you. Choose between using Solo's camera as a second monitor, while the drone flies itself or fly the drone yourself the same time the computer takes control of the camera, either by easing in between keyframes or locking onto a subject. Solo Smart makes it easy to set up a shot, whether it's positioning in space, panning and tilting and the speed of a shot. No matter how much work your letting Solo do, you can take control at anytime. Smart Shots, a now easy way for anyone to tell their story. The software mimics camera moves made famous by movie directors, making you a pro without the necessary filming practice. Even if you have never handled a drone before, the Solo Controller will feel so natural in your hand. It has a 1 GHz computer allowing the filmmaker to adjust and save camera positions, change speed durations, record video and snap photos with a push of a button. All of this happens while it streams to your screen in HD. The Solo with a pre-installed Gimbal in a 3DR Backpack comes in at £1,000. With all this software available at your fingertips, it will be hard to avoid a cheap price tag.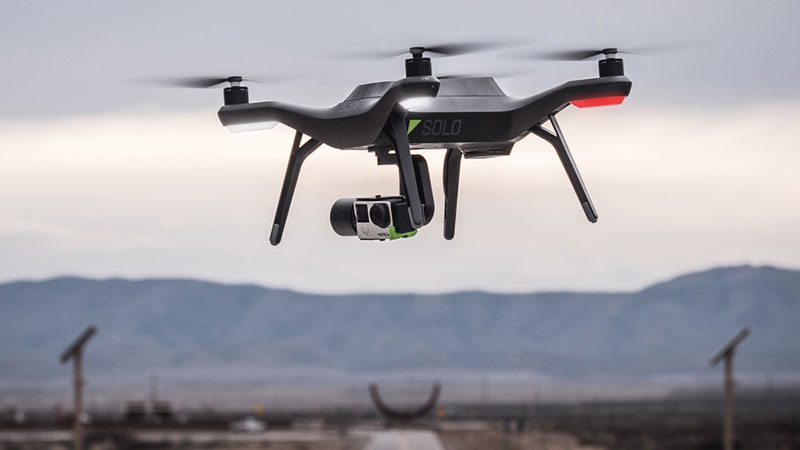 Concluding the Rise of Personal Drones
There is no doubt that Personal Drones will be a useful piece of kit, for people who enjoy filming their hobbies. However, for professional filming this isn't the right equipment that most filmmakers would use as they are limited in terms of camera quality and framing abilities. Even though the personal drone is able to frame the subject being filmed, they are unable to include beauty in the equation. An experienced camera operator will always try to achieve a beautiful composition. Unfortunately personal drones do not know what this is. If you are looking for professional aerial filming, please give us a call and we will help you the best we can. Don't waste your money on a personal drone.
Written by Kishen Randhawa
#personal drones #hexo+ #lily personal drone #solo smart drone 3DR