Who said go big or go home? Certainly not DJI!
DJI has just announced the end of large drones? Probably not, but the new Mavic 2 Enteprise Advanced is packed with stunning tech in less than 1Kg.
Powerful Imaging with Advanced Sensors
Thanks to its advanced dual sensors featuring an HD 640 × 512 px thermal resolution camera and a 48MP visual camera with a 1/2" CMOS sensor, professionals will be able to make informed decisions by quickly identifying objects on site. The thermal camera features a 30Hz frame rate and allows ±2°C temperature measurement accuracy. Pilots can switch between visual, thermal, or split-view feeds for different project needs. The Mavic 2 Enterprise Advanced can capture HD images and 4K videos from a safe distance. Its high-resolution camera sensors support a 32 x digital zoom and a 16 x thermal zoom, allowing operators to focus on the details that count on aerial inspection missions.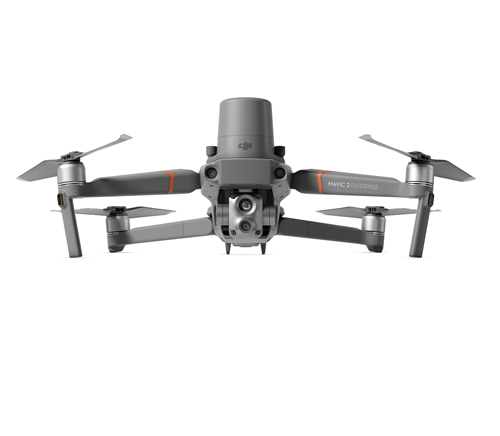 Centimeter-Level Positioning System
The new DJI Mavic 2 Enterprise Advanced can be equipped with a DJI RTK Module[1] which achieves centimeter-level accuracy and supports NTRIP making it ideal for powerline inspections. Operators can create up to 240 waypoints to conduct automated, detailed inspection missions in complex environments. The lightweight and portable format of the Mavic 2 Enterprise Advanced offers maximum agility as it can take off in less than a minute and zip through complex operating environments thanks to faster ascent and descent speeds.
Robust Data Security and Enhanced Flight Safety
The Mavic 2 Enterprise Advanced offers a variety of data protection features that are specific to the DJI Enterprise products so that professionals can be confident in the security of their drone data and to protect the integrity of photos, videos, flight logs and other data generated during sensitive flight. When operated with the DJI Pilot App, the Mavic 2 Enterprise Advanced features Local Data Mode as one of several ways to protect your data. When activated, Local Data Mode will stop the DJI App from sending or receiving any data over the internet. This provides added security assurances for operators of flights involving critical infrastructure, governmental projects or other sensitive missions. The radio link between the aircraft and remote controller features robust AES-256 encryption.
The Mavic 2 Enterprise Advanced incorporates 24 GB of onboard data storage and password protection. This provides additional security to the drone and its onboard data storage, while protecting the data even if the drone is physically compromised.
The new Mavic 2 Enterprise Advanced includes DJI's AirSense system that receives ADS-B signals from airplanes and helicopters to warn drone pilots of other air traffic nearby and 6-directional obstacle sensing. Operators will also be able to fly with Discreet Mode which disables the LED navigation lights and to take advantage of self-heating batteries when operating in cold weather conditions as low as -10° C (14° F).