Virtual Reality Video Production
Virtual Reality and 360 degree filming is fast becoming a bigger part of cinematography and filmmaking. The majority of the time, the camera tells you what to do and what to look at. Virtual Reality is in the stages of making you the spectator, director and sometimes even the actor. But what is the connection between the two you might ask? 360 degree video is one of many forms of the Virtual Reality experience. It can be viewed in many different ways. Only when wearing a headset, makes it become Virtual Reality, delving you into an intense and immersive experience, that puts you right in the middle of the action.
A peak into the Virtual Reality World
One of the key components of Virtual Reality is the head set, that tricks peoples eyes into thinking their in a completely different dimension or world. Here are a few examples of some of the worlds leading head sets:
Google Cardboard- A platform designed for Virtual Reality viewing. It is designed specifically for mobile phone devices. This is a beginners level for Virtual Reality Headsets, and can be bought and operating by most people.
Sony Morpheus- With a number of headsets out there, the Morpheus has the best chance of becoming the most successful commercially, due to Sony's popularity and status as a company. The best thing about this headset is that it requires only a Playstation 4 and has Sony working on games for Morpheus in some of the worlds best gaming studios. In terms of the latest model, it is the most stylish and comfortable. It also includes a 120Hz refresh rates, which helps towards eliminating motion sickness.
Microsoft HoloLens- The HoloLens, technically not exactly Virtual Reality, it's considered more of a holographic computing device. It adds interactive holograms to the space you are in. The technology is impressive, but it's unique holographic interactivity could be questioned. However the headset provides countless possibilities for games, work and communication.
Samsung Gear VR- A mobile virtual reality device, works compatibly with the Samsung Galaxy device. The Gear VR contains a high field of view lenses as well as a custom IMU for rotational tracking. This IMU is more accurate and well calibrated with lower patience than other IMU's such as Google Cardboard. It also contains a touchpad and back button on the side, as well as a proximity sensor to detect when the headset is on.
HTC Vive- One of the biggest names in the PC gaming world. It operates 'Steam' the main storage system for PC games. Set to be released in 2015, the Vive headset offers the best virtual reality experience. It contains two 1080 x 1200 screens, and two sensors that hang on your wall to track movement.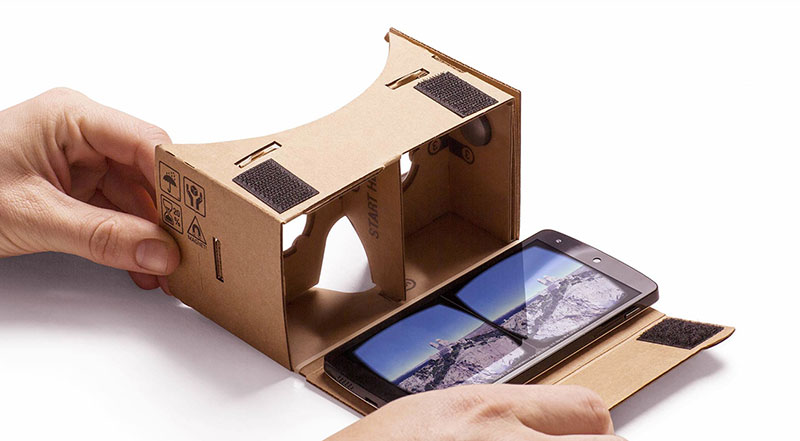 How to film for Virtual Reality
Camera equipment for Virtual Reality is in the beginning stages of production and these are some of the examples that are being made, from beginner to expert cameras.
Freedom 360- It allows you to use six Hero3 cameras, to record video streams that can be stitched into a full spherical video. It gives you the freedom to hold the rig in any direction, not worrying about any blind spot to worry about.
Odyssey – The new rig by GoPro offers an impressive 8K stereoscopic content capture for virtual realty, at 30 frames per second and it even includes multi-camera control and a longer battery life. Made up of 16, yes 16 Hero4 Black cameras, secured all in a hard case.
Samsung's Project Beyond- Comprised of 16 stereoscopic cameras and a top-view camera that 3D captures in Full HD. It promises high-speed connectivity, ultra wide-angle optics and stereoscopic depth.
NextVR Virtual Reality Digital Cinema Camera System- A 360 degree stereoscopic array of high resolution, with high dynamic range digital cinema cameras that capturers immersive, ultra high videos. It will be using it's state of the art technology to bring the best 3D virtual reality content.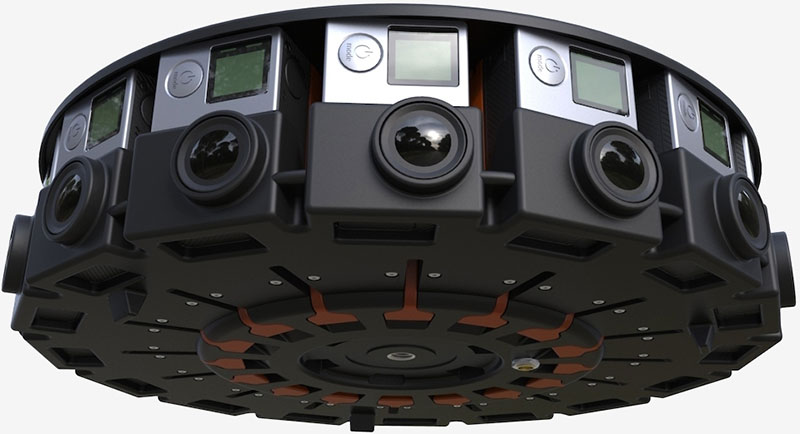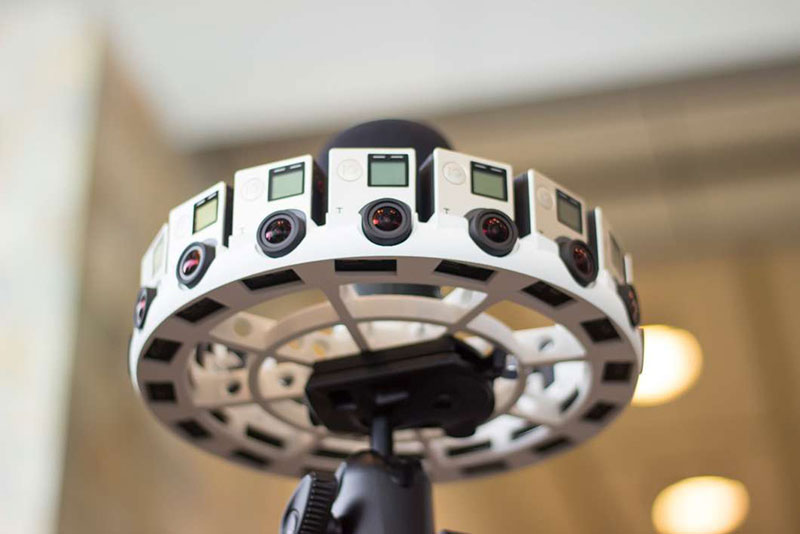 Virtual Reality with Bee Aerial
When producing content for Virtual Reality, one of the main problems for a cinematographer and filmmaker is the fact that the camera is recording with a 360 degree field of view, making it almost impossible for a camera operator to operate the camera, without being in shot. There is no black spot for hiding lightning equipment and especially the crew. The fact that you cannot hide the camera operator, has resulted in the majority of Virtual Reality contents being filmed on tripods. The camera is always static, and movements are not possible, reducing the cinematic language available for the creators.
Another problem is that the filmmakers are recording content, completely oblivious to what the camera is capturing. At Bee Aerial we always do our best to solve the problems that the creators are having, with the latest available technology. Using our in-house designed rigs, such as drones, robotic dolly and camera rigs, we make the impossible now possible. With our services, a full range of movement and freedom is now back in the creators hands. Our custom built video transmitter allows the camera operator to monitor in real time every single camera.
All of our rigs have been fully tested and thanks to our vast experience, we have overcome all the problems that could arise while producing contents for Virtual Reality, such as vibrations, jello effect and the cameras overheating.
For your next Virtual Reality project, using the services at Bee Aerial, we will bring the creative freedom back into your hands.
Written by Kishen Randhawa
#vr #vr drones #drone hire for virtual reality